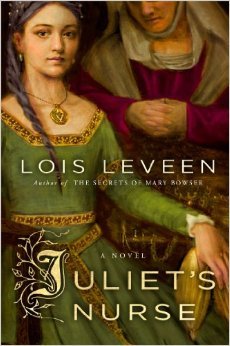 An enthralling new telling of Shakespeare's
Romeo and Juliet
—told from the perspective of Juliet's nurse.
In Verona, a city ravaged by plague and political rivalries, a mother mourning the death of her day-old infant enters the household of the powerful Cappelletti family to become the wet-nurse to their newborn baby. As she serves her beloved Juliet over the next fourteen years, the nurse learns the Cappellettis' darkest secrets. Those secrets—and the nurse's deep personal grief—erupt across five momentous days of love and loss that destroy a daughter, and a family.
By turns sensual, tragic, and comic,
Juliet's Nurse
gives voice to one of literature's most memorable and distinctive characters, a woman who was both insider and outsider among Verona's wealthy ruling class. Exploring the romance and intrigue of interwoven loyalties, rivalries, jealousies, and losses only hinted at in Shakespeare's play, this is a never-before-heard tale of the deepest love in Verona—the love between a grieving woman and the precious child of her heart.
In the tradition of Sarah Dunant, Philippa Gregory, and Geraldine Brooks,
Juliet's Nurse
is a rich prequel that reimagines the world's most cherished tale of love and loss, suffering and survival.
I have to say this book gave me a whole new perspective on Romeo & Juliet.
First let me start by saying that as I've gotten older my view on the original Romeo & Juliet has changed. When I was younger I truly thought Romeo & Juliet was a classic romance. Now with the passage of time I believe it is a depressing example of how youth convinces itself that there are no other options. So when I volunteered to read a copy of Juliet's Nurse I went into it with some preconceived notions. Gosh was I wrong. I think that Juliet's Nurse is a true love story that puts the original Romeo & Juliet to shame.
Since the story is told from the view point of Juliet's nurse it really gives the reader a chance to get to know the rest of the characters. Juliet's nurses actions make much more sense than they did in the original. Plus her relationship with Juliet and her family really opens ones eyes to the class differences and what was going on at the time. I have to say though I fell in love with Angelica & Pietro. I was really rooting for them. I cheered with each triumph and I cried with each inevitable heart break. I only say inevitable since we all know how Romeo & Juliet ends.
The story is beautifully told and Leveen does an amazing job of working the original story of Romeo & Juliet into the nurses tale. She makes the nurses actions make sense. She is no longer simply a servant, but brought into being a true star-crossed heroine in her own right. Leveen also brings Verona to life. Not just the upper class, but the entire city. I really felt I was there more than ever when reading Romeo & Juliet.
Whether you are a fan of Romeo & Juliet or not I would greatly encourage you to read Juliet's Nurse. It is beautifully written. It gives a whole new perspective on the feud between the C

apulets and Montagues

. As well as a look into the people and world that surrounded them. I'm giving this one 5 out of 5 stars and hope you enjoy it as much as I did.
~~~~~~~~~~~~~~~~~~~~~~~~~~~~~~~~~~~~~~~~~~~~~~~~~~~~~~~~~~~~~~~~~~~~
I received this book from NetGalley in exchange for a fair and honest review. All opinions expressed in this review are my own.